Potty Racers 5
    Are you waiting for an action game that can make you feel exiting? Are you waiting for an interesting and cute game? You can try playing the series Potty racers. Potty racers is a game series developed by Gonzo games. There are five versions of the game in this series.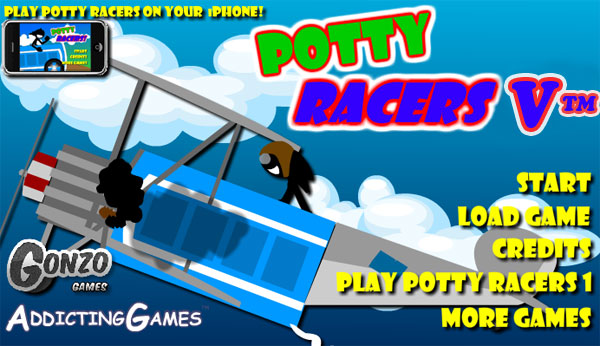 In the games, you play as a guy whose dream is flying to the sky by a porta potty. Almost the time you play is flying in the sky, but if you are fond of speed, it is not suitable for you. The game calculates how far and how high you can fly. It is not a plane race.
    After each fly, you will receive an amount of money as reward. In the first version and the second version, the amounts of money are what you are awarded for your achievement. In the three following version, they are the coins or gold that you collect while flying. You can use the money received to buy equipment to upgrade your porta potty. In four versions, you can upgrade you potty into a potty plane, but in the third version, you can upgrade your potty into a potty spaceship. Therefore, in the third version, you can fly to the space and land on Mars.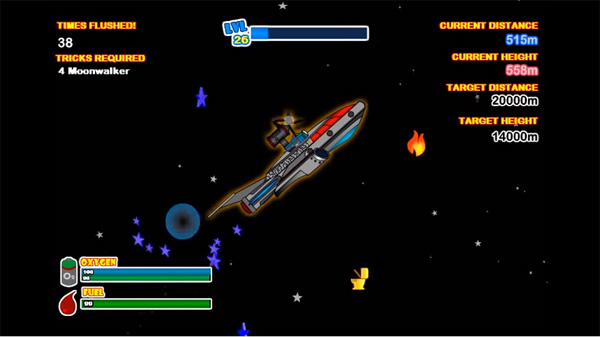 In each version, there are some special features. This makes you feel curious of all of them and you may play all the five versions. They are all so attractive. The two first versions' attraction is the simple design and easy-to-understand rule. Playing the other versions, you can be blown away by them. They are so interesting with impressive design, difficult mission and easy control. They are easy to play, easy to control, but very difficult to win. It makes you glued to them and your victory more worthy.
    Besides, the main character of the game series is one of the outstanding features that the games have. He is a totally black man with no face, no ear and so on. However, many players think that he is so cute. In each version, he has a difference. In the first version, he looks like the description. He smiles showing the teeth only when he has safe landing. In the second version, he has a new hat which is only for pilots. In the third version, when flying in space, he will get out of the potty spaceship to dance the moonwalk. And in two latest versions, his head always turn around for sightseeing, which looks very cute.