Potty Racers
You are waiting for an action game? But so exciting game like car – racing makes you scared? Or you are waiting for a simple game that is not so colorful? Or the game you want is not a flexible game? If your answer is yes, the best choice is Potty racers.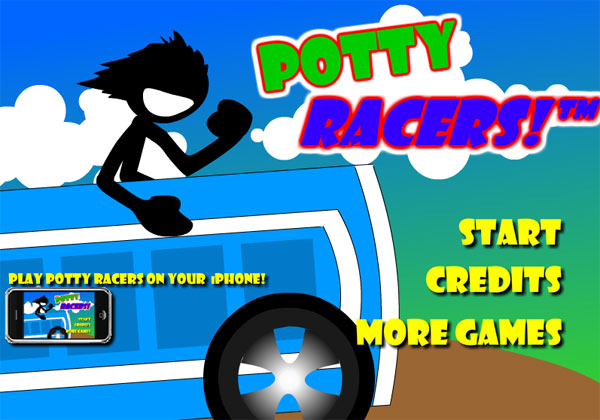 About the game
The Potty racers is the game created by Gonzo game. It is an action game but the game is not as exciting as you thought when you heard that it is an exciting game. It is a very simple game both in the design and the rule of the game. Even small kids can play this game and even play so well.
The design is simple with the main character is a man. He is black from top of the head till the feet and very thin. He has long hair.The scene are not very colorful, there is a warm-up hill on which there is only grass, trees, the man, the porta potty the man use and some flags. Other places in the game, Happy hill, Beach cliff and Blaster hill, are in the same style with the warm-up hill. All of them are simply designed.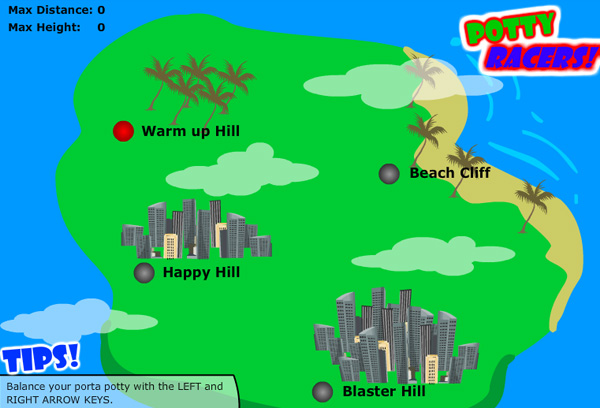 In the game, you play as that black man. He uses a public toilet booth to try to fly. And what you have to do is to make him fly highest and furthest as he can. There are the goals that you have to reach to continue playing in other hills. It is like up level. When you reach the goal, the game will notice that: "New hill unlocked".
    Controls
Like the design and the rule, the controls are easy to understand, so that even kids can play this game. In the game you just have to use the mouse to select the hill, to choose to continue or not, to buy necessary tools, and so on. Most of the actions in the game are controlled by the mouse. You just use the arrow keysright and up while chasing. Pressing the right arrow key is to speed up and pressing the up arrow key is to ride the public toilet booth, get ready for flying. Additionally, on the hill map, there is a tip for you about the controls of the game. "Balance your porta potty with the LEFT and RIGHT ARROW KEYS. Perform tricks by pressing the number keys [1] to [5]"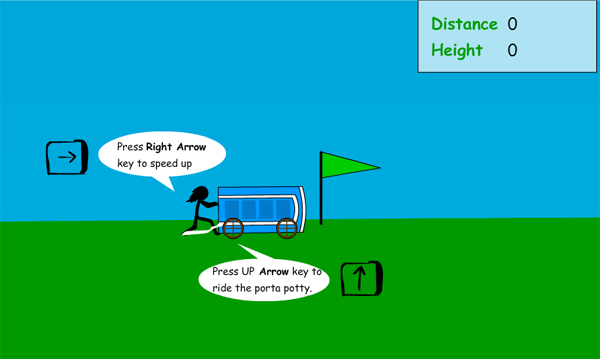 Options
There is nearly no option for you. You can turn the music off by clicking the small button at the left bottom corner of the screen.