Potty Racers 2
The Potty racers 2 is an action game that was created by Gonzo games. It is a game for players who like action games but want to play games that have simple designs and rules.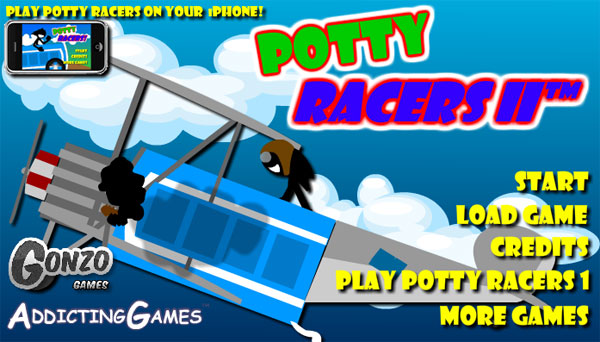 The Potty racers 2 is the second version of potty racers. Except for the rule, all the features of potty racers 2 are different from potty racers such as the design and the controls. It is still a game that is easy to play but not easy to win.
Design
When you click start a half of the globe appears. In the globe, there are for places for you to play the game. You must follow as what you are guided, visit the places and complete the goal in each place. Only when you complete the goal in the place you are in, can you visit other places for other missions.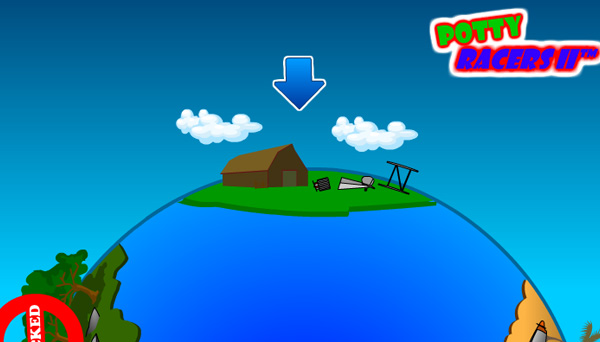 Missions
In the game, you play as a man who have desire to fly by a porta potty and your main mission in the game is to help him fly. You will have to fly from a side to the other side, crossing the sea below. Besides, in each place, you have that place's specific mission. That is a goal with the length of your flight and safe landing.
At first, you have nothing but the porta potty. After each flight you will receive an amount of your money rewarding your achievement. Then, you use the money to pay for speed increasing and making the hill smother, to buy wings, engines, fuel, tails, landing wheels and so on to make your porta potty become a plane. Therefore, you can reach the goal that the game requires.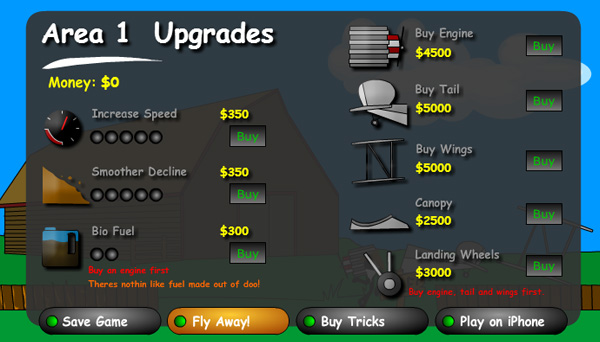 Controls
If you want your flight to be perfect, there are some of the controls that you should remember.
– Use the mouse to choose the places, to select things you want to buy.
– Use right arrow key to speed up.
– Use right and left arrow keys to balance your potty plane while flying.
– Use spacebar to use the engine if you have.
– Use up and down arrow keys to pull up or pull down the landing wheels.
– Use number keys (1, 2. 3, 4) to choose the tricks you want.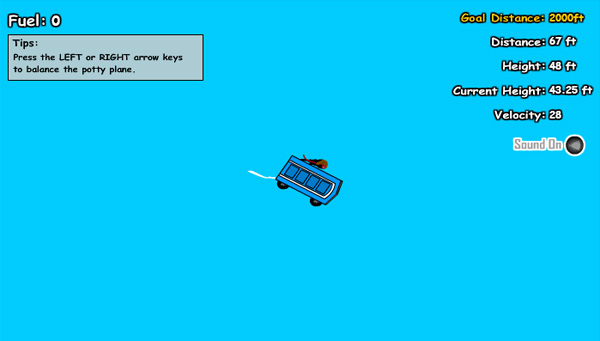 And now, are you ready to fly?